OUR STORY
We form long-lasting relationships with our clients and tailor financial plans according to their individual lifestyle goals.
Client Care was founded by Dirk Groeneveld in 2002 and focuses on lifestyle financial planning. Dirk's passion for helping others with their life-plan has resulted in a business that aims to educate as well as advise.
We form long-lasting relationships with our clients and take the time to get to know them on a personal level. From favourite holiday destinations to the dreams you have for your golden years, we gain insight into your goals and work with you to tailor a financial plan to suit your individual lifestyle needs.
Client Care will always provide real and honest advice – no sugar-coating here. We believe that your financial freedom depends on making the right financial decisions every time and we are here to coach you through the hard times.
Our comprehensive plans include risk exposure, i.e.: life and disability, income and investment structuring, estate planning, tax, wills, trusts – whatever your needs, we take care of the financial side and administrative burdens so that you can live your dreams.
OUR WHY
We love and are proud of the work we do, making a difference in people's lives.
We are qualified, client-centered lifestyle financial planners committed to creating sustainable plans which are personally tailored. We enable our clients to live their dream lifestyle through careful planning and coaching.
Clarify and achieve your hopes and dreams
Our process takes you through a discovery meeting where we get to know you and your personal motivators
Provide an easily understandable financial plan
We work with you to outline a road map to your personal financial freedom that you can follow
Coach and educate you on the right financial decisions
We help you cut through the noise and differentiate between what's important and what isn't
Be there when you need us
Our team provides a sounding board for all of life's unexpected moments and keep you on track with your financial plan
Manage all your financial needs under one roof
Allow us to help you manage all aspects of your financial life, from retirement planning to wills, and everything in between
Give clarity on how to build wealth
Our team will guide you towards the life you want through a tailor-made financial plan
Be there during major (or minor) life decisions
We build lasting relationships with our clients and will be with you every step of the way
Manage your money the same way we do ours
With integrity, care, and comprehension, we will never allow you to do anything that we wouldn't do ourselves
Predict what will happen in the markets
We don't have a crystal ball and we are not asset managers, instead we work with asset management teams who understand the specific long-term returns our clients need
Make your plan work without your commitment
Your financial plan will only be successful with you taking the agreed actions
Promise high returns with low volatility
Asset classes which deliver strong long-term returns will have short-term volatility
Allow you to do things we wouldn't do ourselves
We manage your finances with care and integrity, as we would our own
Manage investments without a comprehensive financial plan
Client Care offer full service lifestyle financial planning, your investments should form part of a comprehensive plan
Time the market or pick the hottest investment - we play the long game
We play the long game - it's time in the market that counts, gamblers seldom win in the long-run
PROFESSIONAL TEAM
Meet With Expert Team
Dirk Groeneveld
Certified Financial Planner ®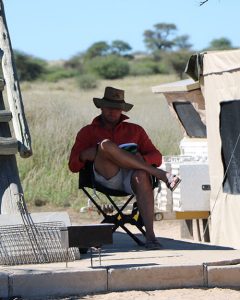 Compassionate, Focused, Braaimaster
Dirk is inspired by anyone who aims to put others before themselves, such as Mother Teresa and Nelson Mandela. Following their example, he has dedicated himself to providing solutions for clients that would meet their expectations and offer them a degree of certainty when it comes to their financial plan in the long term. One of Dirk's favourite experiences with a client is when he sees them making changes in their lives and achieving things that they did not know were possible before, all through following the lifestyle financial plan that he created with their input. In his free time, he loves being surrounded by nature and spending time with family and friends. It's no wonder that he encourages his clients to live their dreams! Dirk founded Client Care in 2002 and has been the driving force behind its ethos, client-centred approach, and lifestyle-oriented financial advice. The most common question Dirk is asked by clients is, "Am I going to be ok?", and the resounding answer from Client Care is - YES! If you work with Dirk and our team and let them guide and coach you through your financial journey, you will be ok! Dirk believes the best thing about Client Care is making a genuine difference in people's lives and having the opportunity to work with such a great team of like-minded individuals.
Alex Blumberg
Certified Financial Planner ®
Energetic, Driven, Sports Fanatic
Alex draws inspiration from a wide variety of role models, from sporting giants such as Caster Semenya and Jan Frodeno, to former FNB Ceo Michael Jordaan, and space expert Dr Adriana Marais. With such a dynamic pool of examples to draw from, it's easy to see where his energy and drive come from! His favourite moments with clients are the times when he is helping someone who feels self-conscious about how little money they have, but still want to do the right thing financially. In these moments, Alex feels like he is truly adding value to clients by teaching them how to make the right financial decisions and work with what they do have in order to reach their lifestyle goals. In true sports-fanatic style, he can usually be found running, cycling, playing soccer or rugby, during his free time. Alex also enjoys reading to expand his knowledge base. Alex often gets asked by clients, "Is Dirk on holiday again?" and, well, the answer is usually yes because Dirk is living his dreams! (You can too, just ask us how.) For Alex, the best thing about working at Client Care is knowing that we make a difference in every client's life.
Ben Charlton
Certified Financial Planner ®
During my time working in the bank as a consultant, I came across a lot of people who would need loans to pay for their children's education, paying balloon payments for their car, or just to pay for some sort of emergency. It was during this time that I started studying financial planning as I wanted to help people and make a difference in their life. When I started in the industry however I soon realized that the average financial advisor was more concerned with selling financial products and obtaining new clients with large investments than working with those who could really use the financial guidance to succeed in life. I felt so disillusioned with the industry until I was introduced to the concept of lifestyle financial planning, where planners put their clients first, don't sell products, and based on what is truly best for YOU! As a son of a doctor, a brother to a doctor and a husband to a doctor, I understand the pains, struggles, and joys that come with a career in medicine and am honoured to work with doctors at all stages of their careers by offering truly unbiased, quality financial advice.
Tshepiso Radebe
Paraplanner
Tshepiso is inspired by the likes of Zola 7 and Dj Sbu. The musicians/Presenters took it upon themselves to inspire and make a difference in their communities. Dj Sbu started a foundation called S.L.E.F which gave bursaries to many township kids and Zola used his TV show to empower the youth in his country, on 3
rd
the of February 2020, he gave out bursaries to students in a partnership with Afribiz Academy. This inspires Tshepiso to one day be able to help not only just Client Care's clients but people who come from very difficult circumstances. Tshepiso hopes to one day inspire the ones that come after him, and make a difference in his community. Due to his natural care gene Tshepiso is always there to help clients and his colleagues with whatever that is needed at the time. Tshepiso's favourite moments are when he gets to meet up with clients, being part of the process of guiding and educating clients about their finances, seeing them achieve their goals and ultimately changing their lives for the better Tshepiso likes engaging with different people from all walks of life, he is very active on social media. On his spare time, he loves engaging with people mostly in his age group, motivating them and helping them deal with whatever they are facing. He also enjoys watching football, and playing video games, he genuinely believes no one can defeat him at FIFA. When he is back home, he enjoys spending his time with his mother and daughter. Tshepiso started working at Client Care as an IFA ASISA intern on the 1
st
of March 2021 and was made permanent around November 2021.  For Tshepiso the best thing about working at Client care is being able to have meaningful conversations with clients and knowing we are making a difference in their lives.
Catherine Brandt
Client Experience Office (CXO)
Caring, Passionate, Beach-lover
Catherine is inspired by Simon Sinek, who, in 2009, published his now-famous book Start With Why which encouraged its readers to identify their purpose and core beliefs. Purpose resonates deeply with everyone at Client Care as we push for a financial advice firm that is focused on clients and their lifestyle goals first and financials as a means to that end. True to her caring nature, Catherine is always there to offer comfort to clients during a tough stage, but her favourite moments are the tears of joy that follow when the eventual outcome is positive. She is a true beach-lover, often spending weekends fishing and socialising with family along our beautiful coastline. Catherine has worked at Client Care since 2014 and often gets asked by clients whether she enjoys the industry, to which she answers "Absolutely!" as it affords her the opportunity to interact with people and provide real value. She believes the best thing about working at Client Care is the passion that everyone has for helping clients live their dreams.
Zoe Clarke
Senior Client Administrator
Thoughtful, Team-player, Creative
Zoe has been with Client Care since 2015. She is inspired by people who have made changes to their lifestyle in order to achieve things that they thought were not possible! So, she is a great fit for Client Care, where our daily aim is to help our clients reach their lifestyle goals. Some of Zoe's favourite moments with clients include hearing about future plans and all of the adventures that they were able to experience through working with Client Care. She loves the outdoors, often spending time by the pool or in the garden at home. Zoe also enjoys going for runs along the beautiful Port Elizabeth beachfront. When she's not outside, she often spends her free time baking and with handcrafts. Zoe enjoys working at Client Care because of the friendly, welcoming environment and being able to work with wonderful, inspiring clients.
Lynda Groeneveld
Accountant | Investec Liaison
Optimistic, Organised, Traveller
Desmond Tutu's ethos of doing "your little bit of good where you are" resonates deeply with Lynda. This simple idea is what gets her excited about Client Care - the drive to help when and where you can. Lynda's role is more behind-the-scenes as she handles all the accounting and acts as the liaison with Investec Bank, but she enjoys meeting new clients and sharing the lifestyle financial planning process with them. In her spare time, she can usually be found outdoors, climbing mountains, walking long distances, or enjoying the sea - she's a bit of an endurance junkie! Lynda has been with Client Care since 2008 and believes the firm ticks all the boxes of the Three A's - attitude, atmosphere, and availability.
Let's Talk
Financial Planning